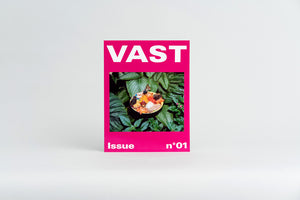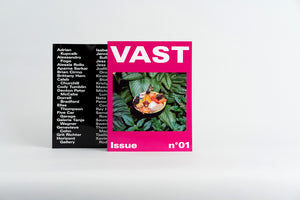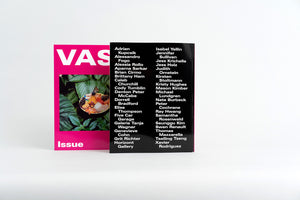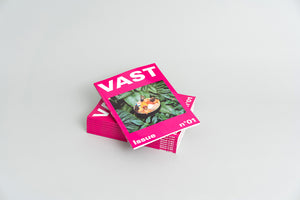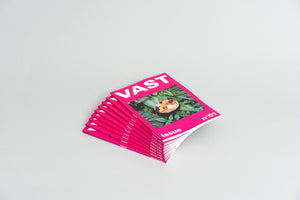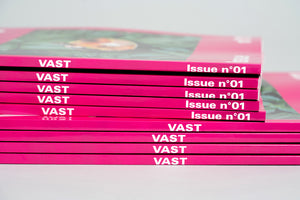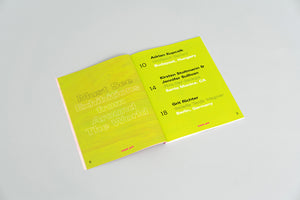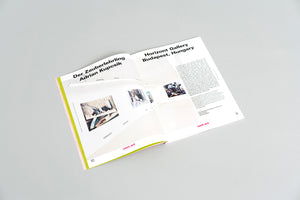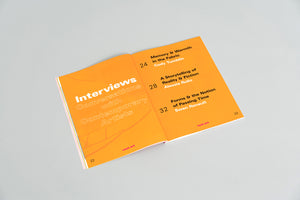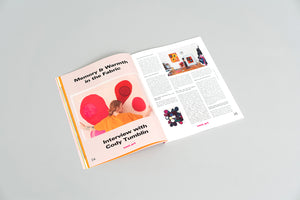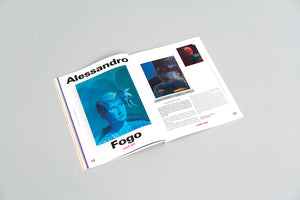 Regular price
VAST Issue n°01
---
VAST Issue n°01 — Get Issue n°01 in your hands and experience in full color print.
VAST Issue n°01 brings together new, emerging, and established practices, aiming to showcase the most exciting work made today. In this issue:
Featured Exhibitions at Horizont Gallery in Budapest, Hungary, Five Car Garage in Santa Monica, California, and Galerie Tanja Wagner in Berlin, Germany. In-depth Interviews with Cody Tumblin based in Chicago, Illinois, Alessia Rollo based in Leece, Italy, and Swen Renault based in Paris, France. 

Contributors in this Issue:

Adrian Kupcsik (Düsseldorf, Germany)
Alessandro Fogo (S. Benedetto del Tronto, Italy)
Alessia Rollo (Lecce, Italy)
Aparna Sarkar (Providence, Rhode Island)
Brian Cirmo (Albany, New York)
Brittany Ham (San Antonio, Texas)
Caleb Churchill (Memphis, Tennessee)
Cody Tumblin (Chicago, Illinois)
Denton Peter McCabe (Santa Fe, New Mexico)
Dorrell Bradford (Phoenix, Arizona)
Elise Thompson (Brooklyn, New York)
Five Car Garage (Santa Monica, California)
Galerie Tanja Wagner (Berlin, Germany)
Genevieve Cohn (Boston, Massachusetts)
Grit Richter (Hamburg, Germany)
Horizont Gallery (Budapest, Hungary)
Isabel Yellin (Los Angeles, California)
Jennifer Sullivan (Ridgewood, New York)
Jess Krichelle (Los Angeles, California)
Jess Holz (Boston, Massachusetts)
Judith Ornstein (Brooklyn, New York)
Kirsten Stoltmann (Los Angeles, California)
Kristy Hughes (Valdosta, Georgia)
Mason Kimber (Sydney, Australia)
Michael Lundgren (Phoenix, Arizona)
Nate Burbeck (Brooklyn, New York)
Peter Cochrane (Richmond, Virginia)
Ray Hwang (Ridgewood, New York)
Samantha Rosenwald (Los Angeles, California)
Seunggu Kim (Seoul, South Korea)
Swen Renault (Paris, France)
Thomas Mazzarella (Brussels, Belgium) 
Tsailing Tseng (Taipei, Taiwan & Brooklyn, New York)
Xavier Rodriguez (Santiago de Compostela, Galicia, Spain)
VAST is dedicated to nurturing the curiosity behind the hard work visual artists do everyday and be a community where expression, creation, and discovery can happen. We know that art is vast and practices range in depth, complexity, and thought. That is why we are committed to showcasing the expansiveness of art in medium and genre. Whether it is painting, photography, sculpture, drawing, illustration, installation, virtual, or environmental, we aim highlight the diversity of artistic practices within the printed and digital pages of our magazine. Our goal is to support and grow a community that nurtures creative thinking, fosters new ideas, and fuels curiosity.
VAST is a new independent visual art magazine showcasing the expansive practice of contemporary artists and photographers from around the world, far and wide. 

Details:

Print Issue
Full Color