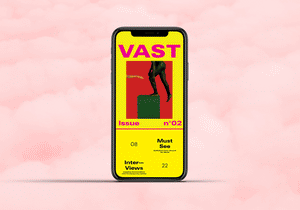 Regular price
VAST Issue n°02 (Digital)
---
VAST Issue n°02 (Digital)

Get VAST Issue n°02 on your phone and read on all of your devices.
In this issue:
Featured Exhibitions at KAYOKOYUKI & Komagome SOKO in Tokyo, Japan, Franz Kaka in Toronto, Canada, and Island in Brussels, Belgium. In-depth Interviews with Angelika J. Trojnarski based in Düsseldorf, Germany, Miguel Sbastida based in Madrid, Spain, and Sophie Lourdes Knight based in London, United Kingdom. 

Contributors in this Issue:

Alexander Wtges (Panamá)
Alissa Polan (Brooklyn, New York)
Amy Usdin (Mendota Heights, Minnesota)
Andrew Orloski (Fresno, California)
Angelika J. Trojnarski (Düsseldorf, Germany)
Anya Kotler (Hoboken, New Jersey)
Azadeh Elmizadeh (Toronto, Canada)
Cameron Scott (United Kingdom)
Erika Suarez (Forth Worth, Texas)
Franz Kaka (Toronto, Canada)
Hannah Elijah (Atlanta, Georgia)
Ian Caleb Molina Zoller (General Roca, Río Negro, Argentina) 
Ida Nissen (London, United Kingdom)
Island (Brussels, Belgium)
Izosceles (Dallas, Texas)
Jamie Romanet (France)
Jeremy Blair (Cookeville, Tennessee)
Jiaqi Li (Chicago, Illinois)
Joshua Littlefield (Baltimore, Maryland)
Jung Ui Lee (Suwon, South Korea)
KAYOKOYUKI (Tokyo, Japan)
Komagome SOKO (Tokyo, Japan)
Lauren Rice (Richmond, Virginia)
Libby Saylor (Wayne, Pennsylvania)
Marina Heintze (Los Angeles, California)
Melchior de Tinguy (Paris, France)
Miguel Sbastida (Madrid, Spain)
Moe Wakai (Chicago, Illinois)
Naomieh Jovin (Philadelphia, Pennsylvania)
Rachel Collier (Minneapolis, Minnesota)
Riley Goodman (Richmond, Virginia) 
Robert Stone (Rochester, New York)
Sophie Lourdes Knight (London, United Kingdom)
Sukhyung Kang (Seoul, South Korea)
Thomas C. Chung (Melbourne, VIC, Australia)
Tori Foster (Toronto, Canada) 
Yu Nishimura (Kanagawa, Japan)
VAST is dedicated to nurturing the curiosity behind the hard work visual artists do everyday and be a community where expression, creation, and discovery can happen. We know that art is vast and practices range in depth, complexity, and thought. That is why we are committed to showcasing the expansiveness of art in medium and genre. Whether it is painting, photography, sculpture, drawing, illustration, installation, virtual, or environmental, we aim highlight the diversity of artistic practices within the printed and digital pages of our magazine. Our goal is to support and grow a community that nurtures creative thinking, fosters new ideas, and fuels curiosity.
VAST is a new independent visual art magazine showcasing the expansive practice of contemporary artists and photographers from around the world, far and wide. 

Details:

Digital PDF format
Full Color